The crown jewel of Iskandar Malaysia
Say hello to the perfect place to call home. Bandar Dato' Onn is an integrated township, carefully planned to bring out the most exemplary aspects of your community living. Live your best life, surrounded by lush green landscapes with centralized parks, secure and private communities, as well as well-equipped facilities and amenities here.
A town can mean so many different things, but as an exemplary township, Bandar Dato' Onn is a perfect place that takes care of your family's wellness so that you can elevate your lifestyle. Enjoy sprawling greenery, beautiful active parks, and vibrant iconic landscapes, giving you changes to emphasis on healthy and sustainable living.
Bandar Dato' Onn at a glance
Right at the heart of Iskandar Malaysia, accessible via North-South Highway (PLUS) and Eastern Dispersal Link (EDL) with dedicated Bandar Dato' Onn interchange. Plans for public transport arrangements to enhance connectivity are also underway.
Switch on your zen mode and be at peace. Enjoy our walkable neighborhood with a 5km linear park, walking and bike paths, central public outdoor spaces and thriving community hubs. This is where the life between buildings become the magic ingredients of wellbeing that contribute to a strong sense of belonging, for generations to come.
Community inspired design
Reside in a township inspired by the coastal Islamic style that symbolises the spirit of modern-day Johor. Bandar Dato' Onn's landscape, designed by renowned landscape designer, Made Wijaya, features red brick gates and walls commonly used during the 14th and 18th centuries. There's comfort in experiencing the novelty of the familiar. This self-sustaining township offers a wide range of integrated amenities like mosque, parks, school, hospital, and police station, designed for you and your loved ones to live the best community life ever.
Nineteen integrated neighborhoods here are built with different lifestyle needs in mind. Neighborhood 8 is based on a sustainable tropical garden concept for those who enjoy natural and tranquil environments. 
Neighborhood 14 with affordable terrace houses in practical studio concepts that is smart home enabled; a perfect choice for those looking for Flexi-homes to express their individuality. 
Enjoy a linear park that works as the backbone that connects all elements in this township.
Bungalow - B'Onn Hill Villas
Bandar Dato' Onn is located only 12km from Johor Bahru city center. It is easily accessible via the North-South Highway and Eastern Dispersal Link.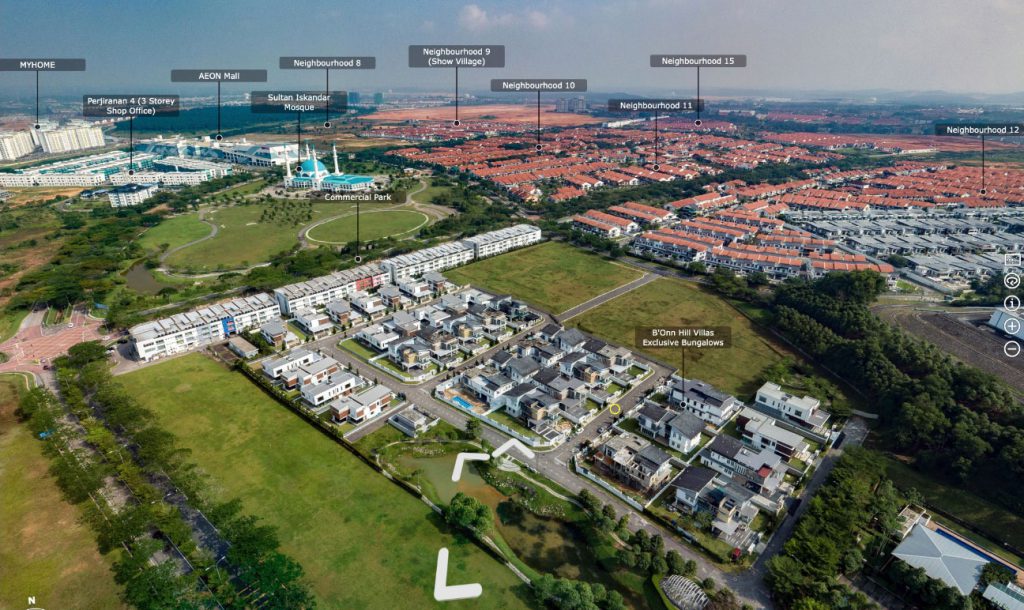 Visit our virtual gallery where you can view and learn more about JLand's development in a 360° environment anytime, anywhere.
Looking for something else?